Scroll down for more news

---
13 January 2012

The Kajagoogoo website has been offline for a week due to an essential server move. This has given us more time to make a few updates to the Kajashop, and tidy things up a bit.

We have taken down the Digital downloads from the shop as the Death Defying Headlines EP's and Nick and Steve's albums are available on iTunes.

Some news you may not have heard:
Limahl has released a new solo single titled '1983' and is available on iTunes, where you can get the 6 track EP with various mixes.
The rest of the band have been busy too in their other outside projects.
Steve has been in the studio working with Gemma Aguilar, Steve Winch and a few other musicians, and they have had releases on his REDdot Music lable
( www.reddotmusic.co.uk)


Nick has been extreamly busy touring with Kim Wilde, Steve Hackett and Steven Wilson (Porcupine Tree) all of which featured touring around Europe and the USA.
And to start 2012, Nick has joined with John Young and formed a Prog Rock band "Life Signs" which will see a release later thsi year. Keep an eye on www.lifesignsmusic.co.uk

Although its pretty quiet musically for Stuart and Jez, they have been busy with their non music projects too, so as you can see, Kajagoogoo have been individually busy.



---
3 July 2011

Steve has been in the studio working with up and coming singer songwriter Gemma Aguilar, on her debut EP 'It's My Life' which is released today on CD and on iTunes.

Produced by Steve Askew, this release is of close interest to Kajagoogoo fans who will be keen to see how Steve has transitioned from the stage to the studio.
---

8 May 2011

Kajagoogoo are set to release a new digital single, available for pre-order from May 16th 2011. 'Death Defying Headlines' is the first single release from the full Kajagoogoo line-up in 28 years, and the result of continual demand from Kajagoogoo fans worldwide.

The single is being promoted by the fan site 'KajaFax'. For further details, click HERE.
To download the Press Release, click HERE.
---

14 February 2011
Kajagoogoo are pleased to announce the Kajafax 'blog' with a host of info,pics,memorabilia and comment from the 'fans' for the 'fans'.To view click here.
---
7 December 2010
Kajagoogoo are pleased to release a previously unseen video taken while rehearsing at Angel Cards factory in Leighton Buzzard in 1979. The footage was taken on Jez's Super 8 Sound Cine camera. The band at this time 'Art Nouveau' included Nick,Steve,Stuart & Jez before Limahl joined in 1981.To view click here.
---
31 July 2010
Kajagoogoo are pleased to release some previously unseen photos taken on location while filming the 'Big Apple' Video in 1984. To view click here.
---
25 June 2010
Kajagoogoo will be making it a 80's British summer this year by performing at the Midlands Music Festival Tamworth on the 17th July and the 80's Rewind Festival Henley on Thames on the 21st August.
---
20 May 2010
There are two new interviews with band members Steve Askew and Jez Strode. Login to the Fans Forum on the site where they are speaking to Steve Conley on the Fan Corner.
*Photo courtesy of Lulu Kyriacou
---
18 December 2009

There are three new remixes of the Kajagoogoo track "White Feathers" from the 1983 hit album of the same name available as a download at Amazon or itunes.
The track has been rmixed by Philip Larsen and Chris Smith from Mahattan Clique.
The duo have recently worked with Katy Perry,Timbaland,La Roux,Lily Allen,Britney Spears and Lady Gaga to name but a few.





---
30 November 2009
The new 'Space Cadet' Video is here .in HD. Produced by Tony Pattinson (Marvellous Pictures) This is the first Video from the band since they reformed in 2008.
---
11 November 2009
On 16th December, Kajagoogoo will perform their only full-length UK concert this Christmas near their home-town of Leighton Buzzard with a return to 'The Stables' in Wavendon (Milton Keynes)
For more details click Here


---
26 September 2009
First reviews of the tour are in folks and they're kind so far:
Liverpool here
Wolverhampton here


---
7 September 2009
A new retrospective 'Best Of' CD/DVD is released today by the band's original label 'EMI Records' called 'Too Shy - The Best Of Kajagoogoo & Limahl' and features two brand new 'Bonus Tracks' plus a brand new video. It's available to buy from various websites including Amazon and HMV


---
14 August 2009

Limahl has recorded an interview with Paul Phear at Magic Radio (London) for the 'Indulgence Show' where he chats about all things 'Goo'. Broadcast date is Sun 6th Sept at 19.00 (GMT) - to hear via the internet, click the 'listen live' link Here
Kajagoogoo have this week recorded an interview with Geraldine Peers for regional TV Channel BBC Oxford to chat about their headlining the local Aylesbury festival, Hobble On The Cobbles which will be broadcast tonight at approx 18.50 (GMT) and should also be avail to view all weekend at the BBC website Here - just click the WATCH NOW link.


---
12 August 2009
Catch the guys being interviewed this week for local Internet TV Channel 'Bucks TV' here


---
31 July 2009

KAJAGOOGOO and LIMAHL will be the subject of a new retrospective from EMI which is to be released on September 7th to coincide with the upcoming UK tour. The album, which marks the recent reunion of the original line-up, will feature remastered versions of all Kajagoogoo's key tracks from 1983 to the present day alongside the best of Limahl's solo material and a DVD of previously unreleased footage of the band including a brand new video for one of the latest compositions 'Space Cadet'.

TRACK LISTING - CD: Too Shy, Ooh To Be Ah, Never Ending Story, Big Apple, Hang On Now, White Feathers, Only For Love, The Lion's Mouth, Turn Your Back On Me' (7" Version), The Power To Forgive, Inside To Outside (7" Version), Shouldn't Do That, Love In Your Eyes (7" Version), Too Much Trouble, Tar Beach, Space Cadet, Dreaming Of The Same Thing.
TRACK LISTING - DVD: Too Shy, Ooh To Be Ah, Hang On Now, Big Apple, The Lion's Mouth, Turn Your Back On Me, Only For Love, Never Ending Story, Space Cadet, Too Shy (BBC Top of The Pops) The 80's.
---
8 June 2009

We have uploaded some UK TV Interviews with Kajagoogoo to our You Tube page. Click here to see.
London Tonight TV
ITV News
Have I Got News For You
GMTV with Lorraine Kelly
Channel 4 News
BBC News 24


On top of all that, we also have some radio appearances for your enjoyment too!

Claudia Winkleman Show
Five Live with Eamonn Holmes
Talk Sport with Ian Collins
---

18 May 2009

We have had a fab start to the promotion for the UK Tour

Already broadcast:
GMTV RX 12TH MAY TX 14TH MAY
ITN NEWS LIVE RX 14TH MAY
LONDON TONIGHT LIVE 15th MAY
CHANNEL 4 NEWS LIVE RX 15TH MAY

This week will see Kajagoogoo on the following programmes:

Tuesday: BBC News 24 - 6:30 live
Thursday: BBC London 4pm / Talk Radio with Ian Collins 11:40 - 1am
Friday: Claudia Winkleman show (between 10pm - midnight)
Saturday: Five Live with Eamonn Holmes 9-11am

Smooth Radio - Mark Goodier Show - Limahl Interview w/c 25th May

We have also added an extra date to the tour. Kajagoogoo will be playing in Sunderland on 22 September at the Campus Academy

The UK Tour will be supported on each date (except for Sheffield) by electronic duo - Northern Kind. Invisible Idols will be the support in Sheffield.

---

14 May 2009
Kajagoogoo will be on the LK Today show with Lorraine Kelly on GMTV (ITV1) this coming Thursday 14th May 2009 at 8:35am (updated time). Be sure to tune in to see them perform Too Shy live in the studio and also an important announcement from the band.

The band also feature in a full article in todays Daily Mirror Newspaper.


---

15 April 2009
Kajagoogoo are performing their first UK date of 2009 at The Pacific Road Arts Theatre in Birkenhead, near Liverpool on Saturday 23 May 2009. There are also VIP Meet & Greet tickets available where you will be able to meet the band after the show. Don't delay and get your tickets before they sell out.


The band will also be returning to Germany on June 5th to perform at the Leipzig City Music Festival.
Tickets are free.
---
KAJAGOOGOO
SPACE CADET TOUR 2009
REUNITED WITH ORIGINAL LINE UP FOR FIRST UK TOUR IN 25 YEARS!




Kajagoogoo's original five members - Limahl (Lead Vocals), Nick Beggs (Bass/Vocals), Steve Askew (Guitar/Vocals), Jez Strode (Drums) and Stuart Croxford Neale (Keyboards/Vocals) have reunited to tour the UK for the first time in 25 years. This intimate tour starts at Liverpool's O2 Academy on 17th September and culminates at Southampton's The Brook on 1st October.

The band, discovered by Duran Duran's Nick Rhodes, had a bitter split into two factions just eight months after their debut single 'Too Shy' topped the UK charts in February 1983. The band has now reconciled and have since rediscovered the magic that brought them together in the first place.

Kajagoogoo's success was instant - the pop-perfect 'Too Shy' became a number one in 23 countries (and Top 5 in America) the 'Ooh To be Aah' follow-up went top ten, 'Hang On Now' Top 20 and the debut album White Feathers Top 5 and went on to sell 3 million albums. After the split, the four remaining members regrouped with Nick on vocals and their next single 'Big Apple' reached a respectable number eight. But Limahl's focal presence couldn't help but be missing.

Click here for full Press Release


---

3 March 2009

Kajagoogoo are pleased to announce the Grand Opening of their new Kajagoogoo Online Shop - known as Kajashop.

Here you can buy all the latest new offerings from the band such as the new Death Defying Headlines EP and sister Dance Remix EP, Gone To The Moon on CD as well as T Shirts and signed pictures. There is also a Digital Download feature where you can download music, much of which has been previously unreleased including offerings from Steve Askew and Nick Beggs.

In the coming weeks, we will be adding some new Limahl tracks as well as some vintage Art Nouveau material, and much more.

The URL: www.kajashop.co.uk but you can access it from kajagoogoo.com

Also now available on the Official Kajagoogoo website is the 3rd Official Kajagoogoo Comic, which features the antics of the band during their recent trip to Poland.

Talking of Poland, there are now LIMITED TICKETS available for their gig in Warsaw on May 8th. Tickets are available online at www.miastorozrywki.pl for only 100 pln
Get them now as they are due to be sold out very soon!!

---
23 February 2009

Tickets are now available for Kajagoogoo's show on the 8th May 2009 at Sala Kongresowa in Warsaw. Click to www.miastorozrywki.pl


---

15 February 2009
Kajagoogoo Concerts in Germany - November 2009.
It has come to our attention that certain German tickets sites are advertising Kajagoogoo concerts in Bochum and Frankfurt in Germany for November 2009.
We would like to advise all our supporters that we have not agreed to perform in Germany in November and that you should NOT purchase tickets for these events. Please obtain a refund via your ticketing outlet.

We advise all of our supporters to only purchase tickets for Kajagoogoo concerts once they appear on this website as we only announce confirmed dates.

---

11 February 2009
Limahl was interviewed last week for a Polish web article which you can read (if you understand Polish) here.

As for the rest of the band, (and their tour Manager) we will see you in Poland on Friday and Saturday at the 2 showsin Bydgoszcz and Wroclaw.

---

03 February 2009
Kajagoogoo will be the featured Headline Band at this years Hobbles On The Cobbles in The Market Square in Aylesbury on Sunday 23 August 2009. You can read more about this FREE show and an exclusive interview with the band over at www.thenewroxette.com/

---

24 January 2009
Kajagoogoo will be returning to Poland for a concert on the 8th May 2009 at Sala Kongresowa in Warsaw

---


17 January 2009
Happy birthday to Jez from all the band and everyone in the Kajateam.
Kajagoogoo will be featured on the Franco-German TV channel ARTE on the 23rd January. The popcultrual magazine "Tracks" will air at 23:25hrs.

---

13 January 2009
Kajagoogoo have announced a new live date in England on May 23rd 2009 at The Pacific Road Arts Theatre, in Birkenhead. Tickets are available now from the box office.

As many of you will know, Kajaoogoo performed 2 back to back shows at The Stables in Wavendon in December, and you can view some photos of the evening here

---
07 January 2009
Happy New Year to one and all.
We hope enjoyed your festive holiday.
Kajagoogoo will be performing 2 dates in Poland this coming February 13 & 14th. Click on live dates for venue information.

Limahl was interviewed for the January edition of Q magazine, and the band will also feature in the February edition of The New Roxette magazine.
We will very soon announce some forthcoming shows for the UK so please check the site daily for updates on these gigs and their locations.

The band will have 3 songs between them and Limahl on the forthcoming re release of Now That's What I Call Music Volume 1 (Re-release Special Collectors Edition). Disc 1 includes Limahl's Only For Love, and Kajagoogoo's Too Shy, whilst Disc 2 includes Big Apple.
---
25 December 2008
Merry Christmas everyone!
Well, we have come to the end of another year, but what a year it has been for Kajagoogoo in 2008.
We have seen live performances, TV appearances, Radio appearances, new EP, Free album and meet and greets.

2009 promises to be bigger and better, and we hope to see as many of you at the shows we have lined up in 2009, which we will tell you more about in early 2009
Keep an eye on the Official Kajagoogoo website for more UK and European dates to come in 2009.
For your own safety and security, please only purchase Kajagoogoo tickets once we have announced confirmed dates on the Website on the Live Dates page and via this newsletter.

Limahl, Nick, Steve, Jez, Stuart and all the team at GooGooo HQ would like to thank you all very much for your continued support and as an extra thank you, we want to give you all a special Christmas gift, a free exclusive MP3 of Ooh To Be Ah, acoustic version recorded live in Berlin in 2008.

This will only be available for the next 12 days, and in order to download it, you need to be a subscriber to the Official Kajagoogoo Newsletter.
The Kajagoogoo Newsletter is an email based newsletter service which will bring you news and information on gigs, releases, appearances and much more direct to your email inbox.
To Subscribe.
Send a blank email to with SUBSCRIBE in the subject line to:
kajagoogoonews@kajagoogoo.com

You will recieve an email with the download details.
We hope you enjoy it.
So, have a fun, and safe Christmas wherever you are around the world, and we look forward to seeing you in 2009

Kajagoogoo and the team


---
17 December


Nick get us in the festive mood with his Chapman Stick rendition of Jingle Bells, whilst Jez has been Elfing around with his bandmates (click the picture)

---

14 December
Nick was interviewed at the recent Stables shows for the Friars Aylesbury website, which features pics of the band, and their gig history at Friars in Aylesbury.

---

30 November

The band will be on BBC 3 Counties Radio this Wednesday 3rd December on the Nine O Clock Show with Ronnie Barbour.
The entire band will be on the show at around 10:15am
You can listen online at
http://www.bbc.co.uk/threecounties/local_radio/
BBC Three Counties Radio broadcasts to Beds, Herts and Bucks on the following FM frequencies:
90.4 (East Herts);
92.1 (South Herts);
94.7 (Aylesbury Vale);
95.5 North Beds/Herts;
98 (High Wycombe);
103.8 (South Beds/Herts);
104.5 (Milton Keynes and North Bucks).
It also broadcasts on AM (Medium Wave) on 630 to Beds, Herts & Bucks, and on 1161 in North Beds.

---

21 November


Kajagoogoo will be on the ITV show Now Thats What I Call 1983 tonight at 10pm on ITV1
On Saturday 22nd, Limahl will be live on the Tim Smith show on BBC Radio Berkshire. Tune in between 10 and 11am.
Then at around 11:40am Limahl will be on the Phil Kennedy show on BBC Radio Oxford

---

19 November
Kajagoogoo will be featured on Anglia TV (ITV1 in the west of the Anglia Region) at 6pm this evening. This is the bands first UK TV appearance since they reformed earlier this year.

You will be able to view online later this evening at http://www.itvlocal.com/anglia/

---

14 November
Due to demand, Kajagoogoo have announced the release of an extra 15 VIP Tickets for each of the 2 shows at The Stables, in Wavendon, Milton Keynes on December 10th & 11th.
Upgrades are available for those that have already purchased normal tickets and that all you have to do is to pay the difference between the normal ticket and the VIP
Please telephone the Stables Box Office on 01908 280800

Tickets for these special 2 shows are selling fast, so we advise you to buy your tickets as soon as you can. It promises to be a fantastic evening with the addition of Limahl performing with his Swing Orchestra.
Expect to hear a few of the new tracks at the all of the shows.
Tickets from : www.stables.org

Over on the Kajagoogoo You Tube Channel, you can see the web exclusive performance of the new song, Space Cadet, filmed at Frankfurt's Batschkapp

An exclusive 'live & unplugged' version of Too Shy can be seen along with a studio interview with Oldie 95 Radio. You can also see photos taken from The Stage Club here

Limahl will be on the on the Tim Smith Weekend Show on BBC Radio Berkshire from around 10am on Saturday 22nd November. Be sure to tune in as you may get to hear one of the brand new songs for the first time.
For those outside Berkshire and the UK, you will be able to listen live at
http://www.bbc.co.uk/berkshire/local_radio/



We have teamed up with the wonderful website Remember The Eighties to bring you an exclusive competition.

One winner will receive a very special Kajagoogoo Prize consisting of an autographed copy of the forthcoming EP - Death Defying Headlines, and an autographed limited edition t shirt featuring the Death Defying Headlines artwork.

Two runners up will recieve autographed copies of the EP and an autographed Kajagoogoo Postcard.
The EP containing the new tracks Space Cadet, High Life, Death Defying Headlines, and Dreaming Of The Same Thing has been produced by Ian Curnow (Pet Shop Boys, Kylie, East 17, PWL, Stock Aitkin & Waterman) and will be released very soon.

So to be in with a chance to win these exclusive prizes click over to www.remembertheeighties.com now!!!




---

09 November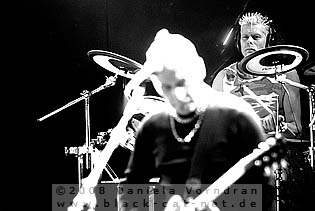 The Kajagoogoo concert in Berlin on 14th November has had a last minute venue change.
The concert will now be held at The Frannz Club
Schoenhauser Allee 36 (Kulturbrauerei),
D-10435 Berlin

Tickets from the original venue (Columbia Club) are still valid for this venue


Click the image to view exclusive image from the show in Bochum.

Reviews are coming in from last nighst German debut of the reunion concerts.You can view Daniela Vorndrans review on her Reflections Of Darkness site.





---

22 October

Kajagoogoo will be returning to Poland for a concert on the 30th November 2008 at
Sala Kongresowa in Warsaw
Tickets from:
www.biletyna.pl
www.ticketonline.pl

The band are currently in the final stages of rehearsals for the upcoming tour of Germany. Expect to hear a few of the new tracks at the shows.
---
16 October
It's been a while coming, but the 2nd edition of the Official Kajagoogoo Comic is now available as a download via the multimedia page. Download it now and see what goes on when Kajagoogoo travel to Poland.

---

Broadcast Date: November 21st 2008

Dig out your ra-ra skirts, snow-washed jeans and stock up on hairspray… as the ITV is stepping back into the 1980s just for one special night.
 
Join the ultimate retro party in the shape of ITV1's primetime music show, Now That's What I Call 1983.
 
Denise Van Outen is the show's hostess with the mostest, and will be joined by live performances from some of the top acts that made 1983 such a vintage year for pop.


Yes, we're talking mullet and back-combing heaven aka Kajagoogoo, Howard Jones,  Heaven 17, Nik Kershaw, Paul Young, Nick Heyward, Spandau Ballet's Tony Hadley and more.
 
Plus, there will be a chance to look back at some of the big events that hit the headlines a whopping 25 years ago.
 
So, get ready to party like it's 1983!
---
5 September

Exclusive pictures from Kajagoogoo's gig at Retrofest last weekend can be viewed here, It was the bands first gig together in 25 years on U.K. soil and they performed a 50 minute set comprising of:
Interview Rooms - White Feathers - Big Apple (Nick and Limahl Duet) - Hang On Now - Shouldn't Do That (Nick and Limahl Duet) - Only For Love
Lions Mouth (Nick and Limahl Duet) - Lies & Promises - The Never Ending Story - Too Shy


Over on the Kajagoogoo You Tube page, we have added 2 songs from the gig, White Feathers and Interview Rooms.
The Daily Record newspaper has an online video interview with Nick, Limahl, Jez and Stuart on their website.

We also have a miniblog entries from Stuart and Limahl, speaking to kajagoogoo.com about the Sopot Music Festival show and Retrofest.
Speaking of which we have footage from the TV show on the You Tube page as well.


---

26 August

We have some pictures from Kajagoogoo's performance at the Sopot Music Festival in Poland. The Festival attracted the highest ever viewing figures since the festival began.

Limahl will be appearing on the Steve Wright Show this Thursday 28th August between 2pm and 4pm were he will be talking about the anniversary of The Never Ending Story, Retrofest and of course the reunion.





---

22 August
Kajagoogoo will be live on Polish TV on Sunday 24th August.
Limahl, Jez, Stuart and Steve TV Show Dzien Dobry TVN at 9:30am talking about the Sopot Festival and the reunion.
Unfortunately Nick will not be on Dzien Dobry TVN as he will be en route to Poland from a gig with Kim Wilde.

The full band will be performing at the SOPOT Music Festival which will be broadcast live on TVN (See local T.V.listings for more info.)

And back in the U.K, Kajagoogoo will be performing live in the studio for the 25th Anniversary of the release of the compilation album 'Now That's What I Call Music'.

'Now That's What I Call 1983'. This will be broadcast on primtime TV on Friday 21st November 2008 on ITV1.
---

15 July
We are very pleased to announce that Kajagoogoo will be touring Germany in November 2008.

Tickets for the 8 date German Kajagoogoo Reunion Tour 2008 will be available on 23 July 2008. They can be bought at www.eventim.de or via telephone on +49 234 9471940. At the moment there is an advance notice at www.eventim.de where interested persons can register with their email-address
Full dates can be found by clicking on the Live Dates menu.
---


3 July

Kajagoogoo were featured in 2 newspaper articles this week in their hometown of Leighton Buzzard.
You can read the online version at http://www.lb-news.co.uk/lbnews/DisplayArticle.asp?ID=327550
and you can also see the paper version in the LB News and by clicking the image to the left.
And you can click here to read the Leighton Buzzard Citizen article.



---

25 June
Kajagoogoo will be performing 2 dates at The Stables Theatre in Wavendon, near Milton Keynes, England on the 10th & 11th December 2008.
The band will be supported by Limahl's and his Swing Orchestra.
Click on the Live Dates Section for full ticket and venue information.

All the guys have written about the Esbjerg show from their perspectives, and you can read them by clicking here
---

19 June
We have some exclusive photos from last weekend's debut reunion gig in Denmark at the Esbjerg festival. Click here to see them. Also, we have 3 fantastic videos on our You Tube page in High Quality of Too Shy Only For Love and Never Ending Story.
---
27 May

Gone To The Moon, the album written and recorded by Nick, Steve and Stu before Limahl and Jez rejoined the group is now released in its entirety as a free download. The guys wish to do this as a "thank you" for all your support over the past 25 years and it's available free only from www.kajagoogoo.com. It will be available as a free download until Feb 2009.




Their manager Brad Snelling added, "It's quite something in this day and age, that a band are prepared to release an entire album for free. We decided that to do this there would be no strings, no extra tracks added to the hard copy format later or bonus tracks appearing only on the digital download sites that had to be paid for. It's a genuine gift to the Kajagoogoo fanbase and just as important, it's a great album. And before we get a deluge of emails asking when new material from the reunited Kajagoogoo will appear - just watch this space - a new release is scheduled for early 2009!
---
15 May
Important information regarding Bratislava - 23rd May:

Due to the Promoter not fulfilling his contractual obligations to the band, it is with regret that Kajagoogoo are unable to take part in 80's Idols.

Please be aware that the band did everything in its power to make this gig happen as did Howard Jones & Kim Wilde who have also decided not to take part in the event for the same reasons as Kajagoogoo.

Nick, Limahl, Steve, Stuart and Jez would like to express their sympathy to the fans who have already booked tickets and hope to get to Bratislava sometime in the near future.
---
20 April
We heard from You Tube that the Kajagoogoo Music Channel has been ranked as the 28th most subscribed musician page this month, and it is also the 100th most viewed musician page on the whole of You Tube.
This is fantastic news!

The band got together last week for their first rehearsals in preparation for their forthcoming gigs.


---
09 April


Monday 7th April - London. Kajagoogoo sign their band agreements, bringing them back together officially after 25 years.
Nick says: This was a snap taken on the night we signed all the paper work.
Limahl is showing the newly signed agreement.
Strangely, the solicitors office was right next door to Blackwing Studios, at All Hallows Church.
This is were Art Nouveau recorded their first demos and the single fear machine.
As you can see, the original signage is still present.
This was a commission by Eric Radcliff to Steve Askew back in 1980.
Steve used to be a sign writer and when Eric found this out he said, "Oh I need some signs for this place.".
The signs are all still there, 28 years later, even though the building is unused now.
(Eric Radcliff engineered and produced Art Nouveau and went onto produce Depeche Mode, Erasure and Yazoo at the same studio.
Hence the Yazoo album title "Upstairs at Eric's."


---
01 April
Kajagoogoo are back! and a new website is launched
You are looking at the brand new official kajagoogoo website! Created to mark the reformation of all original 5 band members, Nick, Limahl, Jez, Steve and Stuart.
Here you will find all the latest information on the band, live dates, band member info as well as some official kajagoogoo goodies, mp3's, photos, downloads and more!

Confirmed live dates

Official Photoshoot As part of the re-launch, the band recently got together for a photoshoot. More pictures can be seen in the multimedia section. [

more

]